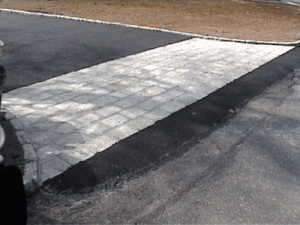 Here is a sample of a driveway we did for one our our clients recently.  While we perform a variety of outdoor masonry services including patios, walkways and retaining walls, for this job we laid down a style of driveway apron referred to as a "Belgian Block Driveway Apron." We also placed an edge of retaining stone all the way up the driveway to provide for additional continuity and visual framing for the entire driveway.
This is a particular style of driveway apron that is very hearty and can withstand the varied Massachusetts seasons including intense snow, driving rain, massive humidity as well as winds, sunlight and pretty much everything in between.
Another nice benefit of this type of driveway apron is that it is also very versatile and continues to uphold its nice look over many years and also through a variety of potential landscape environments and different house colors. Should a homeowner down the road choose to repaint their home or to possibly introduce a new landscape to their home the driveway apron will still continue to feel like a nice organic fit.
Why People Get Driveway Aprons
New Driveway aprons are becoming a more common job request over the past few years. The reasons are likely a combination of people re-investing in their existing homes rather than purchasing new homes and also a result of this particular outdoor landscaping trend really beginning to take hold as it is a great way to add some nice local flavor to a property.
Our clients come to us with a new driveway apron request for a variety of reasons. Sometimes the desire for a new driveway apron in purely cosmetic. Particularly for our core customer base of Wellesley, Weston, Natick, Wayland, Holliston, Ashland driveway aprons make a great deal of sense given the rich architectural history of our area of the country. Cobblestone, brick and granite driveway aprons are all great choices to help further give the entrance to a home a richer New England feel.
We've also seen a number of customers decide to go with a driveway apron as a result of having some other construction work done on their property that required a portion of their driveway to be removed. When confronted with a gaping hole at the entrance of their driveway they have then elected to install a driveway apron as a great alternative to a total asphalt driveway.
Another set of client we regularly service for driveway aprons are those that require a more sure footed entrance to their property. For clients with either loose gravel or even dirt driveways, a driveway apron can add some nice visual appeal while also provided a property with a much more secure entrance way. Particularly after years of plowing loose stone and dirt driveways begin to see considerable erosion as the aprons of these driveways are often plowed both by the residents and by the towns clearing the main roads.
Is A Driveway Apron a Good Choice for You?
A driveway apron is a very nice way to add some nice visual diversity and beauty to the entrance of your property.  There are also some functional benefits to having a properly installed driveway apron.
Highlands Lawn Driveway Aprons
We have tremendous experience with driveway aprons.  We work hard.  We work fast.  And we maintain a very clean and safe work space.  In addition as we have deep experience with all aspects of residential landscaping, we are able to view your potential driveway apron holistically and to really consider how your driveway apron will integrate with the rest of your landscape.  If you need design ideas we can certainly help there as well.
Contact Us for A Free Estimate
If you are considering a new driveway apron we'd greatly appreciate the opportunity to visit your property and to provide you with a free no obligation estimate.  Please call us at (781) 431-2338 or reach out to us through one of the contact forms on our website and we'll arrange for a time that is convenient for you to come by your property.  We are fully insured and we take tremendous pride in delivering great results for all our clients.