Transform your yard with an Outdoor Fireplace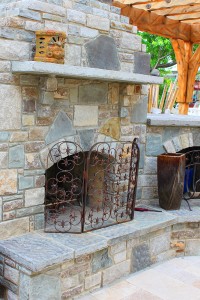 Outdoor fireplaces are gaining popularity, particularly here in Massachusetts.  They extend the amount of time you can spend in your yard and enhance your outdoor living enjoyment.
An outdoor fireplace can truly transform your property.  You can build the outdoor fireplace into your overall landscape, or you can create an outdoor "room" concept, similar to what you'd find inside a home.
With an outdoor fireplace, you can get enjoyment from your patio regardless of the season.  Imagine a warm fire on a cool, starlit night.  Enjoy nature's two best light shows, all in the comfort of your own back yard!
The Highlands Landscape Construction & Tree Difference!
In addition to installing your outdoor fireplace, our team can help you with the entire design process. If you would also like a stone patio area or full landscaping integration, our expert team has you covered. We provide a full-service experience that will ensure that you are covered every step of the way.
At Highlands Landscape Construction & Tree we have a dedicated team focused exclusively on outdoor masonry. Our results speak for themselves. We are also very knowledgeable of the extreme Massachusetts weather patterns, which impact how we physically build your outdoor fireplace.
Learn More and Receive A Free Estimate
Looking for an outdoor fireplace on your property?  Please reach out to our team and we can provide you with a free estimate.  We can walk you through the entire construction process for your property, including an estimated timeline and suggestions for design and direction.
In addition to our professional service, we are also fully insured. Proudly serving the residents of Wellesley, Weston, Natick, Wayland, Holliston, Ashland and the surrounding Massachusetts communities!