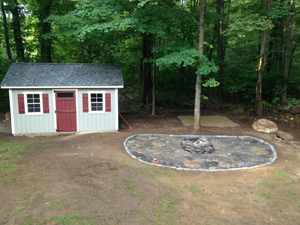 We recently built this Fire Pit in Milbury, MA. As we've mentioned, outdoor fire pits are really starting to gain popularity, and for good reason and our masonry crew is hard at work laying down the stone for brand new outdoor fireplaces and fire pits across the MetroWest! These nice additions can add tremendous value and enjoyment to any backyard.
Another great benefit of an outdoor fire pit is that it greatly extends the usage of your lawn. With an outdoor fire pit, suddenly the hours of lawn usage go way up. In addition, an outdoor fire pit is great to sit by during the fall, providing a really nice outdoor environment that is pleasant and extremely enjoyable.
Project Detials
In this particular instance in Milbury, MA in addition to building a dedicated outdoor fire pit, our client also had us create a stone patio as well as a nice granite border to help frame the entire space. As you can see from the photo, this outdoor fire pit is in an elevated area of their yard that has been heavily trafficked, so the stone patio provides this family with a great space to lay out some patio chairs and do some serious star gazing!
Still Time To Act
As we are still in very early September as of the time of this post, there is still plenty of time to get started with an outdoor fire pit of your own and to allow for plenty of enjoyment for the remainder of this fall and way beyond.
In addition to outdoor fire pits, our dedicated Highlands Lawn & Landscape Masonry crew also can build fully functional outdoor fireplaces. If you are interested in reaching out to us for a free estimate on such services we'd be happy to work with you – and if we move forward, the first bag of marsh mellows is on us!