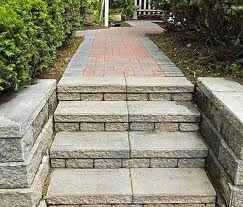 An outdoor masonry service we frequently perform is the building of stone steps.  When it comes to this particular part of your outdoor yard portfolio, in addition to being very design focused, our Highlands Masonry Team also recognizes how critical the safety of your steps is.  After all, often times the steps are among the first areas the members of your household and your guest physically interact with.
Stone Steps – Design
In terms of design, we can deliver on a variety of styles including granite steps, stone slabs as well a large number of approaches focused on brick designs.  Chances are if you can imagine it, we can build it!
We also can provide expert guidance and our very capable team can comfortably offer suggestions with regard to what might work best with the overall scheme of your house and the general landscaping architecture that already exists on your property.
Another area that we can assist with is the creation of a great stone steps design that fits into a much larger masonry project that might include additional elements such as stone walkways and matching walls.
Stone is a wonderful addition to most properties as it delivers a very appealing sense while also conveying a sense of durability with a strong foundation.  Fortunately our team has outstanding relationships across the state of Massachusetts and beyond, providing us with access to amazing materials that add massive value to our stone step projects.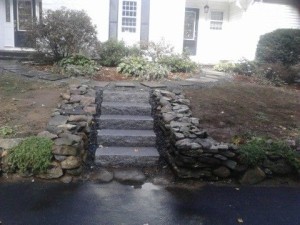 Stone Steps – Safety
In addition to the design, safety with your stone steps is critical.  Stone steps require a very expert approach when being built.  Often times contracts will cut corners on areas that are not seen above ground and might not lay down a deep enough foundation, or perhaps they might not adequately plan for irrigation needs.
When you work with our Highlands Masonry team, you can be sure we will not cut corners.  We take great pride in our work and we place a big emphasis on your safety.  Not only do we perform our services in a safe manner in order to minimize your exposure to any risks while our crew is onsite, but we also take great pains to ensure that the work we deliver for our clients will remain intact, and will provide a safe pathway for our clients.
We dig deeper.  We lay proper foundations.  We focus on the entire environment surrounding any new steps with an eye towards ongoing maintenance and management.  We also use only the finest ingredients to help bond our steps.  The environment here in Massachusetts is extreme, and poor concrete is not an option when it comes to steps.
Stone Steps – Repairs
Another area that our team is often brought in for, is to provide stone step repairs focused on steps that were not originally laid down by our team.
If we can repair your steps, we will.  If it is clear and we feel that a fresh approach is needed, we will let you know before any work is performed.  If we are not sure, we will tell you before we get started and walk you through the entire range of possibilities in advance so that you are not caught by surprise.
Unfortunately, not every company builds stone steps the way they really need to be built, but if you find that your steps are in disrepair, and would like to bring in a new company to at least provide you with another opinion, we are happy to come in and give you a free estimate regarding the repair of your stone steps.
Professionalism and Satisfaction
At Highlands Landscape Construction & Tree, whenever we are invited on to a property, we know it is a privilege – and our entire team takes that very seriously.  Our crews are courteous, professional and we strive to keep our work areas as tidy as possible.
In addition, particularly with our masonry services, we know how big the stakes are, and we are tremendously appreciative of the trust that our clients place in our team.  Stone is meant to last, and with something such as your steps, stone steps in particular can really frame the entire entrance to your home so we take great satisfaction in delivering outstanding results at highly competitive prices. Ultimately we strive to deliver work that you can rely on, and work that you are enthusiastically willing to refer to others.
Free Estimates
If you are considering new stone steps for your property, and are located in Massachusetts – particularly in the MetroWest, we would be honored to meet with you and to provide you with a free estimate as well as some potential areas for direction if you are looking to our team for guidance in this space.
Feel free to give us a call, or to reach out to us through our website and we will promptly get back to you.